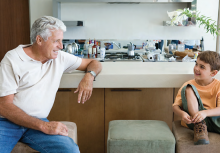 Rafal Chomik and Sophie Yan
In Australia, the topic of housing occupies many a newspaper column, barbeque conversation, and research report. Just over half (or $6.3t) of Australian household wealth is stored in housing, distributed across 10.3m residential dwellings, which are among the most expensive in the world (Demographia 2018; AFR 2019). The family home not only fulfils everyday needs as a shelter and a place for family and social relations but can also act as a store of value and guarantee financial security in retirement – it is both nest and nest egg. Yet the same cannot be said about those who rent their home in retirement. For them, security of tenure and finances is often lacking.
Housing outcomes therefore affect financial and personal health and wellbeing over the lifecycle. And as lifespans increase and Australia's population ages it is important to continue to examine the interactions between demography and housing. This research brief explores the current state and projected future of such interactions, marrying policy developments with the latest data and research, particularly from CEPAR researchers. The brief complements previous CEPAR research briefs, including a series on retirement incomes in Australia and on aged care in Australia. In fact, homeownership is often considered as another pillar of the retirement income system, in addition to the Age Pension, and mandatory and voluntary superannuation. Much has been written about housing, so the aim here is to apply CEPAR's expertise in demographic change to bring new insights to this complex topic.
This brief is in three parts. It first tackles the dynamics of the housing purchase in working life, describing the patterns of housing tenure across generations, demographic and market dynamics, the likely future effects of demography on housing demand, and the policies that can affect home purchase outcomes, particularly taxes. In part two, the brief considers housing consumption in old age, discussing the retirement income context, the value and distribution of housing wealth, the preference of older people for remaining in their community, and how older people bequeath or can make better use of the equity in their home in retirement. Finally, part three tackles housing lack in old age, describing the implications and vulnerabilities that arise from renting in retirement. Overall, the brief provides a broad stocktake of research that touches on many different areas of housing-related policy.