L-R: Marc de Cure, CEPAR Advisory Board Chair; Nicholas Fisk, Deputy Vice-Chancellor (Research), UNSW Sydney; Sue Thomas, CEO, Australian Research Council; Minister for Education Dan Tehan; John Piggott, CEPAR Director; Chris Styles, Dean, UNSW Business School (image by Irene Dowdy)
Tackling the challenges of a rapidly ageing population in Australia and the world is the focus of CEPAR's new research program, led by UNSW economist Scientia Professor John Piggott. The Minister for Education Dan Tehan formally launched the centre's new seven-year research program at Parliament House, Canberra on 31 October 2018.
The Government is providing $27.2 million over seven years to support CEPAR's new research program. Mr Tehan said Australia had to confront the issue of our ageing population.
"Population ageing is one of the most important challenges facing Australia in the 21st century. The ARC Centre of Excellence will bring together leading researchers from a range of disciplines to undertake research that will help governments, businesses, and consumers prepare and make better decisions for an ageing world," he said.
CEPAR Director, Scientia Professor John Piggott said population ageing is an issue of paramount importance to all.
"It is truly the ageing century. Population ageing is exerting unprecedented pressures on long-established social norms and policy institutions, both in Australia and around the world."
"We have created an ambitious new research program to generate crucial new knowledge to inform social and economic responses to an ageing world. The research we will continue to undertake has the potential to transform Australia's future," he said.
ARC Chief Executive Officer Professor Sue Thomas said the Centre of Excellence would maintain and develop Australia's international standing in a research area of national priority.
"CEPAR will examine the changing demographics of Australia, and explore things such as how individuals make life decisions, investigate the barriers to mature workforce participation, and find solutions to help governments improve retirement incomes and health policy," she said.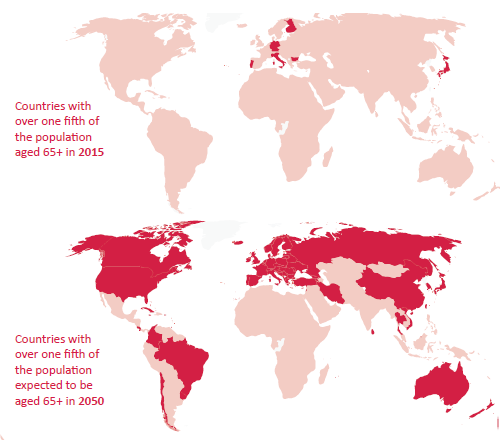 Minister for Senior Australians and Aged Care Ken Wyatt AM said the new Centre of Excellence would help prepare the nation for the future.
"We are entering the golden age of ageing and we must embrace both the opportunities and the challenges, to keep Australia at the forefront of active ageing and aged care," Mr Wyatt said.
"With projections more than 40,000 Australians will be aged 100 or older in 2050, this Centre of Excellence will complement our current world-class work in this important area."
"CEPAR supports a vision of Australia where economic growth is robust, the mature labour market is buoyant, health and social services are effectively and sustainably delivered, cognitive ageing is slowed as a result of meaningful work and social participation, outcomes for women in the workplace and in retirement are improved, and individuals are guided in decision making and financial risk management," said Prof Piggott.
Multidisciplinary research approach to inform government, industry and community
CEPAR is a multi-institutional research centre, drawing on the expertise of demographers, economists, epidemiologists, psychologists and sociologists. Unique in its multidisciplinary approach, these research teams are led by twelve Chief Investigators who are leading experts in their research fields. Based at UNSW Sydney, the centre has nodes at The Australian National University, Curtin University, The University of Melbourne and The University of Sydney.
The centre's new research program is assembled into four interconnected streams, that cover demographic modelling; decision making, expectations and cognitive ageing; work design and successful ageing in the workforce; and sustainable wellbeing in later life. The latter including not only physical but financial wellbeing as well.
CEPAR was the first social science centre to receive Centre of Excellence funding from the Australian Research Council (ARC), initially in 2011. With the launch of the centre's new seven-year research program following the successful bid for a second term of funding, CEPAR remains the only Centre of Excellence to be hosted by a Business School.
"Few issues are more significant, in Australia, regionally, and globally, than the challenges presented by an ageing demographic. The unparalleled multidisciplinary expertise of CEPAR will allow focus on a wide range of issues vitally important to an ageing world and position UNSW as a major authority in the area," said Professor Ian Jacobs, President and Vice-Chancellor of UNSW.
"CEPAR's objectives align with a number of UNSW's Strategic Priorities. In particular, CEPAR's focus on issues of fundamental importance to future economic prosperity and social wellbeing, strong partnerships with major government departments and leading businesses, and emphasis on two-way engagement, fully support the UNSW 2025 strategy which aims to establish UNSW as a world leader in the field of research translation and knowledge exchange. My congratulations to John Piggott and all of the CEPAR team," Prof Jacobs said.
Research impact
CEPAR Director John Piggott said the centre's core purpose is to provide independent research that has real impact in dealing with the economic and social challenges of population ageing.
"The funding will combine to support a critical mass of researchers in population ageing, will contribute to the development of the research program and, importantly, play an essential role in the translation of research outcomes to support economic and social policy, business practice and community understanding. One such example is the recent release of CEPAR's new set of research briefs on retirement incomes. This is the latest in the centre's series of research briefs which translate population ageing research for government, industry and the wider community."
The set of three new research briefs presents the latest data and highlights relevant research in retirement incomes. They feature findings from over 40 of CEPAR's leading researchers and are online available.
"The research briefs illustrate the powerful alliance in CEPAR who will fundamentally advance our understanding of population ageing and develop strategies to respond to the related challenges at a critical juncture for the world," Prof Piggott said.
---
Explore news articles and commentary published on the launch of CEPAR and latest research briefs:
---